Kshetra Samachara
Local News Subject:
Many Hubballi bound trains detained today.
City:
Davangere
Hubballi-Dharwad
Upload Image: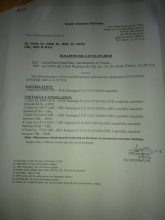 Body:
Following the incident, Train: 17225 Vijayawad-Hubballi Exp is detained at Kusugal and train: 56903 Solapur-Dharwad pass. is stopped at Hubballi East Cabin. Train: 56273 Arsikere-Hubballi pass. is held at Kundagol. Passengers being brought to Hubballi by buses.
SWR hires 25 NWKRTC buses to bring passengers of different trains halted at surrounding stations of Hubballi.